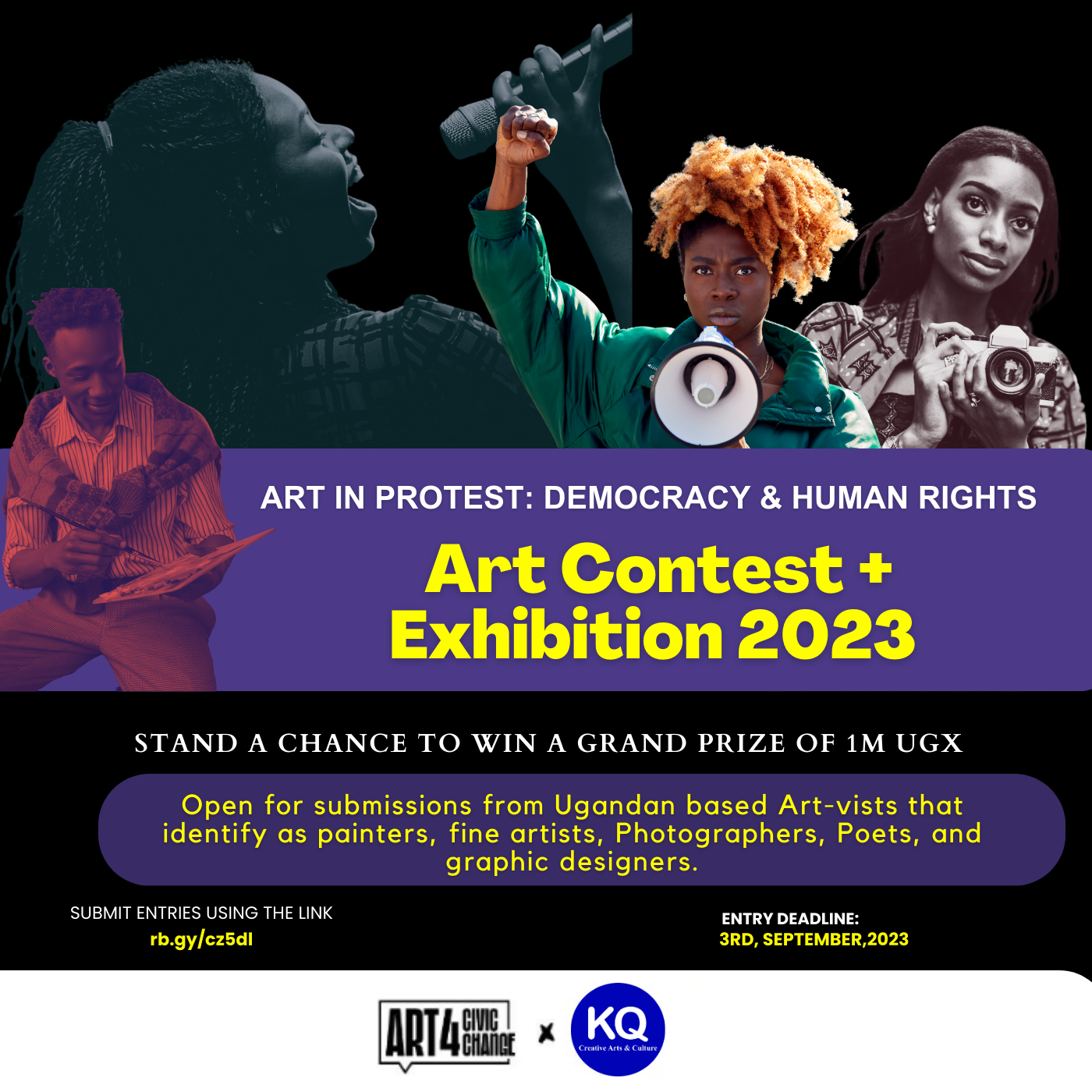 Art is a powerful tool for promoting democracy and human rights in closed societies, provoking constructive dialogue and creating space for debate beyond mainstream bodies of political discourse. Authoritarian governments worldwide recognize the power of art as a conduit of change, and systematically persecute, repress, or censor artists to silence political dissent.
We are pleased to announce the "Artivism in Protest" art contest and exhibition in Uganda, celebrating democracy and human rights. We invite artists from all backgrounds to submit their creative works for a chance to be featured in our exhibition.
This art contest seeks to open space for artists to explore their creative imaginations and spark meaningful dialogue on human rights and democracy in Uganda led by art activists!
We are using this opportunity to call upon Ugandan artists including:
Visual artists/painters,

graphic designers,

photographers,

short filmmakers and

Poets
The call for entries is open on a rolling basis, giving artists the flexibility to submit their works at any time. We encourage artists to explore themes of democracy, human rights, activism, and protest in their submissions for a chance to enter a 1,000,000 UGX prize contest with the runner-ups getting 250,000 UGX each. We believe in recognizing and supporting artists for their valuable contributions to society.
By participating in this exhibition, artists will have the opportunity to engage with a wider audience and contribute to the conversation around democratic values and human rights in Uganda. Your art has the potential to inspire change and motivate others to stand up for justice.
The contest will culminate into an open public exhibition and artist talk where we will invite the selected artists to share their ideas for a just democratic future with artists at the front line at a public cocktail event.
Deadline: 3rd September 2023